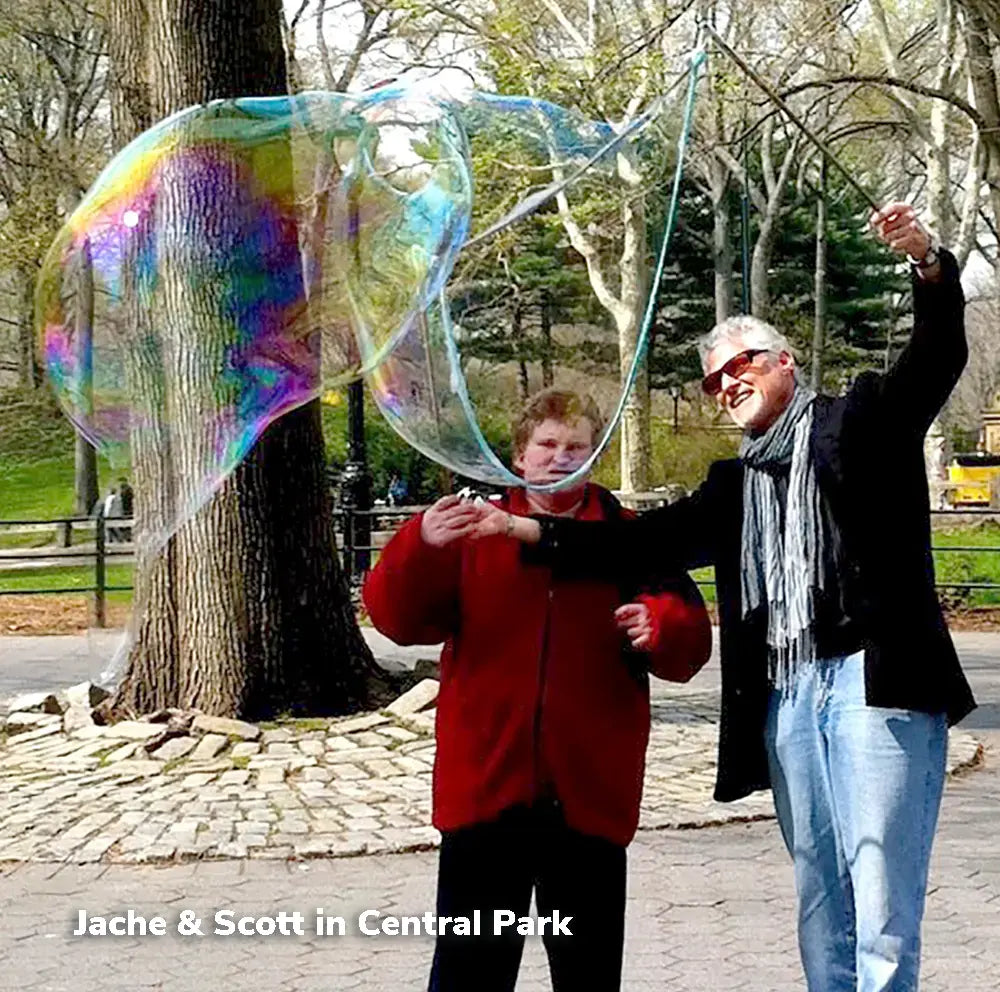 'Bubbles are incredibly symbolic for our family, first becoming so when we noticed our son's fascination with them. As a person with autism, bubbles have always brought Jache countless hours of joy and contentment since he was a very little boy.'
That's the bubble upside of things.
The bubble downside is that for 12 years we lived inside one. Our lives were quite literally sequestered, continuously involved in a home-based program for optimizing Jache's (pronounced 'ache' with a 'J') development, until age 15, when he then began a full-time life skills program at the local public school.
It's been almost 9 years since Jache turned 21. The year my husband, Scott, and I began thinking about Jache's next step when he turned 22, the age in Massachusetts when public school is no longer an option. Just about any parent of special needs teenagers knows that feeling of having to prepare for when your young adult will no longer have a place to go to be with others.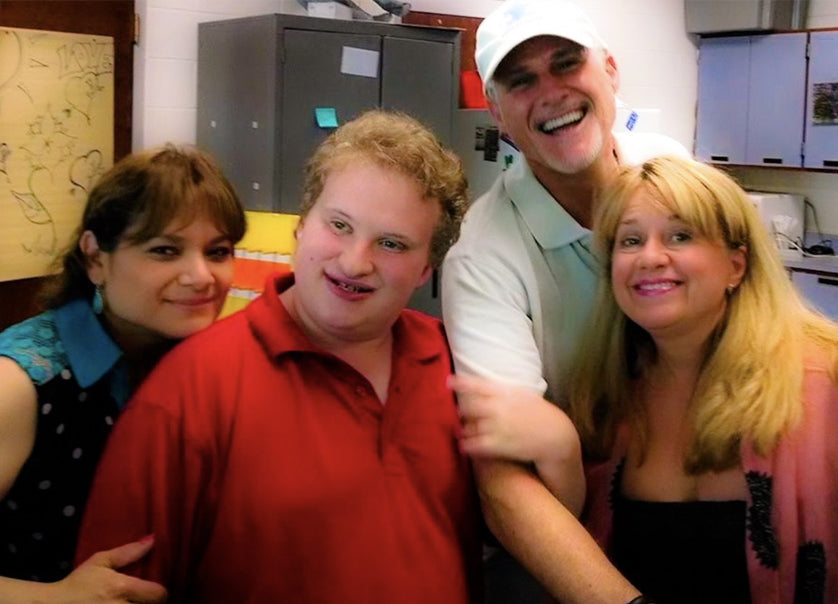 This photo captures Jache's last day of school. That's me, Scott, Jache, and Alicia Ogaz, Jache's paraprofessional at school. Alicia has been with us since Jache was two, truly a member of our family, and now the Day Program Director at ExtraSpecialTeas! I call her an 'Angel on Earth.' We are all blessed to have Alicia in our lives.

After checking resources in our area, I decided I wanted Jache to continue to be in an inclusive environment. Since all of the available options in our wonderful community here in the Southern Berkshires of Massachusetts felt exclusionary, I was going to have to take matters into my own hands and figure out what that might be.
I dreamed of a place where my son and others with intellectual differences could learn, create and grow, plus be a vital part of their community. It was time to pop out of the bubble!
Time to emerge from the safe and known…and move out into our community…but how to initiate a new engagement with it and at the same time support what was best for Jache?

The first thing that came to mind was a teahouse. There was no other teahouse, at the time, in our town of Great Barrington. I loved tea and could envision it being a place where Jache could be part of the everyday things.

It was important to us that the world and our local neighbors embrace Jache and all others with learning differences. We believed then and now that:
Every differently-abled person:
has something to offer their community,
deserves to be part of it,
needs to know they have value.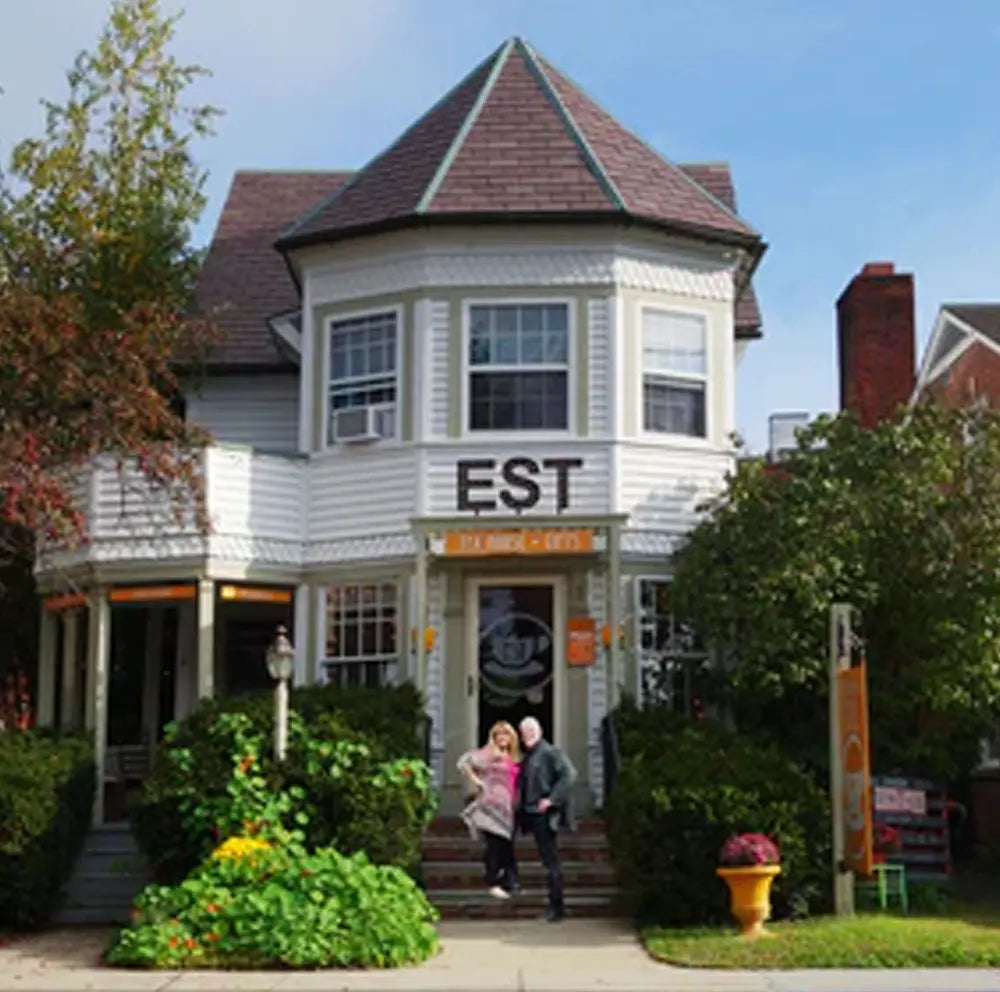 It took us three years to get our newly created nonprofit off the ground and open our unique teahouse and vocational program at 2 Elm Street, Great Barrington, MA.

We found a quaint 1920's Victorian that we made our own by pulling up the carpeting and refinishing the hardwood floors, adding brightly colored walls, and purchasing vintage furniture from Habitat for Humanity that we painted to create a 'boho chic' atmosphere.
'I wanted our teahouse to be just the opposite of those typical sterile environments created for those with special needs -a place where anyone who entered, left happier.'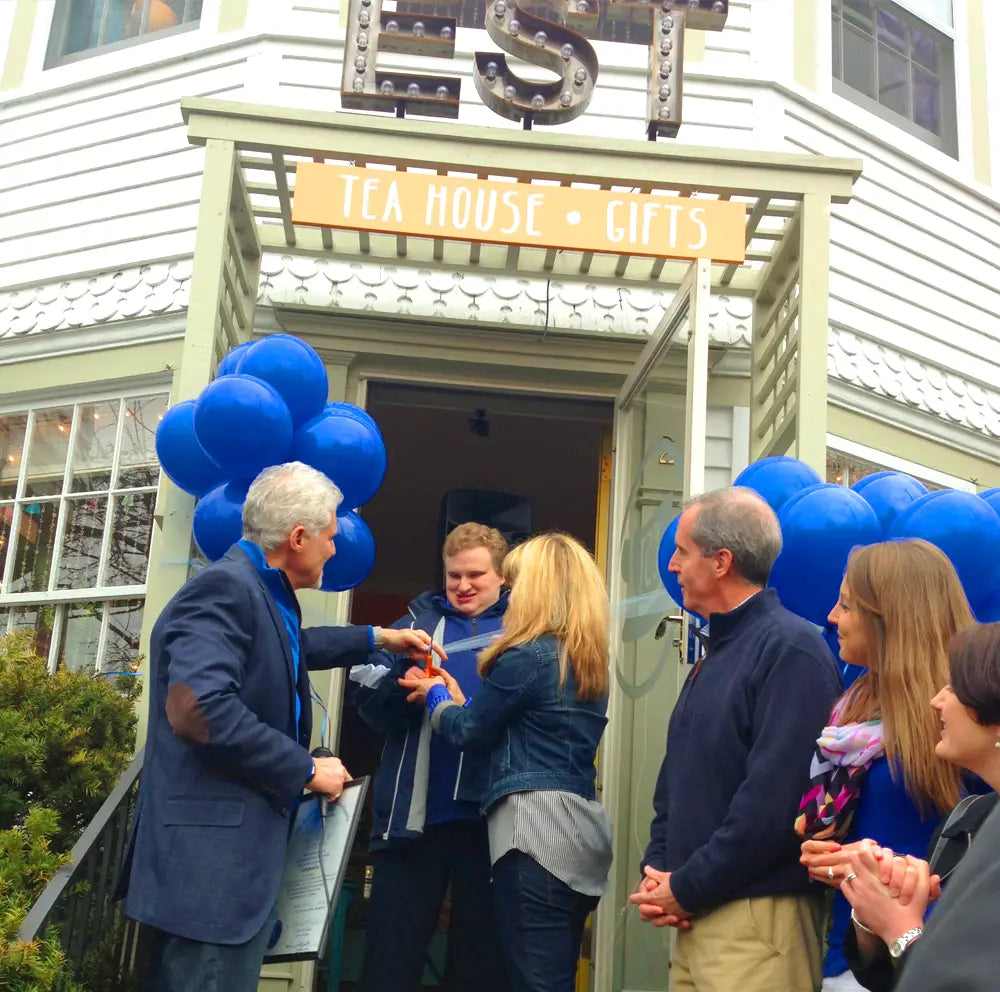 'On World Autism Awareness Day, April 2nd, 2016, we opened our community-based nonprofit teahouse to employ young adults with learning differences, such as Autism and Down syndrome.'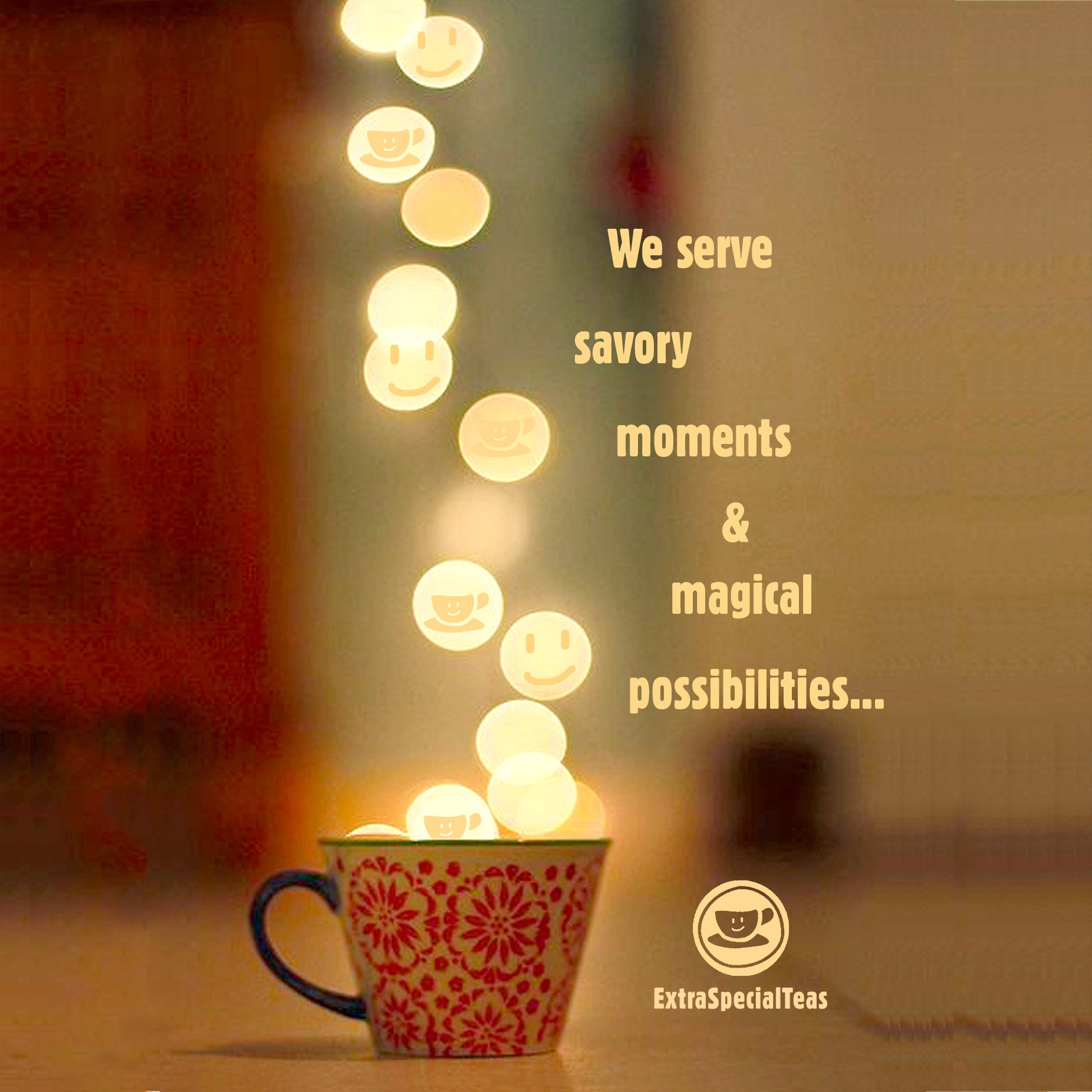 Now that I've taken the plunge...in the bubble still resonates but in a much more optimistic and possibility-fueled way.

This image really captures that spirit and immediately became our inspiration 'meme' the second I discovered it online. It has guided us, almost like a manifesto, in everything we've ventured into for bringing our now thriving enterprise to life!

The effusive, glowing bubbles floating up and out of the teacup mean magical possibilities to me. Bubbles have a lightness of being and they're multi-colored, iridescent...they effortlessly deflect and re-shape themselves as they move through the air.

Many kids on the autism spectrum, like our son Jache can be mesmerized by all those unique characteristics…a metaphor for their own unique qualities. The phenomenon that bubbles float, represents our hope for Jache and for all people with differences to be touched and positively transformed by the very earnest intentions we have at ExtraSpecialTeas.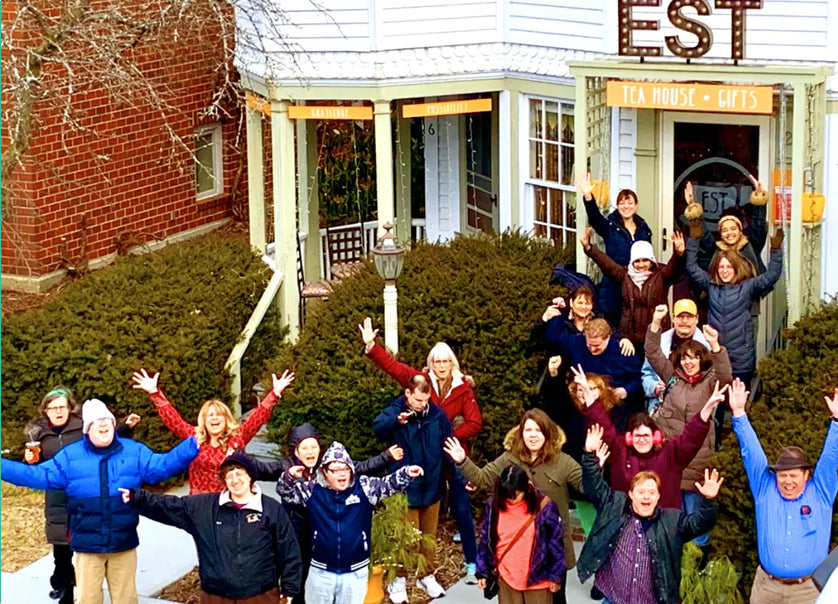 Just as we offer our teahouse as a place of connection & inclusivity, made possible by many wonderful people, this blog will reflect those experieces including from our participants' perspectives.
So, in conclusion, I am very grateful to be able to share exactly what EST means to me: a little magic in mind with boots on the ground and hands in the air surrounded by 25+ extra special employees doing the same! And that my dream has come true, as well as many of theirs' too being in the ExtraSpecialTeas' programs. 
We look forward to sharing more here on a monthly basis through our blog and newsletter we call…
'In the Bubble'

Hoping you see the magic and possibilities in your day!

Cherri Sanes
Executive Director/ExtraSpecialTeas